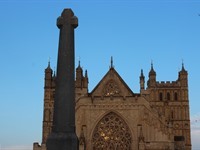 Our central city centre location gives you the perfect base to explore Exeter, which in our opinion is one of the most vibrant and historically interesting cities in England. Exeter offers so much amazing history and heritage. Beneath the streets of Exeter are unique medieval passages which date back to the 14th Century. The network of medieval passages were built to supply fresh water into Exeter. You can explore one of Exeter' best kept secret in less than a 10 minute walk The Bendene. No other system of passages can be explored by the public anywhere in Britain.
We are a few minutes walk away from the main attractions of Exeter. Exeter Central Station is just a 3 minute walk away, if you would like to explore Devon, and the surrounding beautiful countryside. Exeter Cathedral can be reached in just 10 minutes on foot. Exeter Cathedral dates back 900 years, a magnificent example of decorated Gothic architecture. The building is one of the many reasons it is worth a visit. If you are staying to visit Exeter University this is just a 15 minute walk from The Bendene. The University of Exeter has a 400 acre campus and has the reputation of having one of the most beautiful gardens in the UK. The gardens are award winning, with fascinating sculpture pieces and inspired architecture.

We are set on Richmond Road, a quiet street which is just a short stroll from an abundance of great restaurants, bars, and cafes in Exeter city centre. Please ask us for recommendations any time.